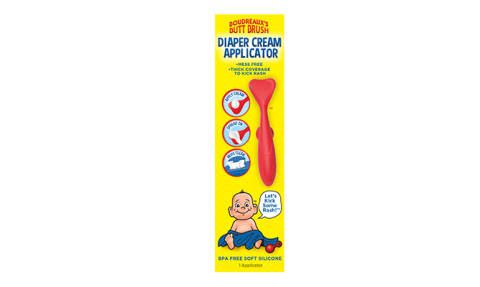 Diaper Cream Brush Applicator
Keep baby's butt rash free and your hands mess free. The soft silicone BPA-free applicator provides quick and easy application of Boudreaux's® Original and Maximum Strength Butt Paste® on baby's delicate skin.
Boudreaux's® Butt Brush™ is a BPA Free diaper cream brush applicator made of soft silicone. Use Butt Brush™ to apply diaper cream ointment directly on the diaper rash.
Designed to be gentle on babies' bottoms, but also mess free for parents (no more sticky hands and diaper cream stuck underneath your nails).
An aid for mom or a tool for dads. Either way, a hassle free way to apply diaper rash ointment. Clean with just one wipe.
Spreads Butt Paste® and all diaper rash creams thicker, faster & more evenly.
Firmly suctions to changing table or on top of a Boudreaux's Butt Paste® Jar.
A great baby shower gift for a new parent or a just a great item to have in a diaper bag for the experienced mom.
Step 1: Apply Butt Paste® on brush head.
Step 2: Gently brush Butt Paste® on baby's bottom. For best results, apply thick coat to form a protective barrier.
Step 3: Clean after each use with a baby wipe. Brush can be disinfected in boiling water as needed. It is also dishwasher safe. Suction cup sticks on almost any surface when changing the diaper.
The Boudreaux's® Butt Brush™ is not a toy. Use only as directed. Discontinue use if skin shows signs of sensitivity or irritation towards the Butt Brush™. Discard or sterilize the Boudreaux's® Butt Brush™ in boiling water if it comes in contact with yeast infected skin or an infectious rash.