How to Host a Virtual Baby Shower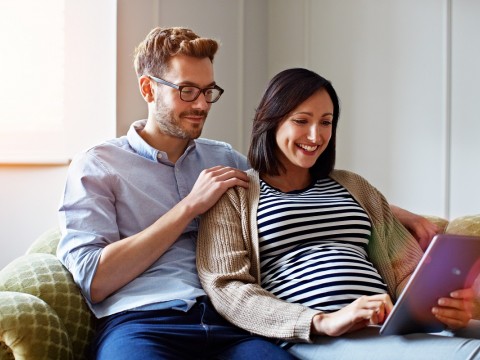 Hosting a baby shower is exciting and something new mom's and their loved ones look forward to during their pregnancy. But if stay-at-home requirements have put a wrinkle in your party plans, don't worry! You can still host the baby shower you've been dreaming of virtually, including all of the games, gabbing, and gifts you were planning. Here's how to pull off a spectacular virtual baby shower that makes the mom to be feel as special as she truly is!
Choose Your Party Platform
The first step in hosting a baby shower virtually is to choose the online meeting platform you'll use. And, there are many free options to choose from!  Zoom, Skype, Join.me, Facebook Messenger Rooms and Google Hangouts are just a few examples of online meeting platforms that will connect you with your guests through audio and video, so no one misses a single moment of the baby shower.
Be sure to check the rules for each platform as some limit guest numbers and have meeting time limits on their free subscriptions.
Decide on a Theme
Let's be honest, parties are just more fun when there is a theme! Choosing a theme that allows everyone to participate is a great way to make guests feel involved and united. Themes could revolve around gender, animals, nursery rhymes or characters.
For example, if the future mom is expecting a little girl, you could have a "Pink Party"  shower where everyone wears pink and makes themselves a pink beverage to enjoy during the event. Consider sending a small package to each guest that fits the theme and includes a drink and snack to share during the event. Think tea, powdered lemonade, packaged cookies, biscotti, etc.
Send Invites and Promote the Information
The wonderful world of technology allows us to send invites virtually, which will save you time and money! Create your invite using your favorite invitation platform or mail out your printed invitations. Be sure to include the date, time, registry info, virtual party link and any meeting id or password needed for the event.
Another idea is to promoting the party using a private Facebook event. The Facebook event format will allow you to keep track of attendees and answer questions in one place.
Complete Online Gift Registry
The point of a baby shower is to shower the family and baby to be with the gifts they'll need when they welcome their little bundle.
Online registration for all of the things a baby needs has never been easier.  Make sure to include everything a new family could need from diapers and wipes to nursery items and other essentials like Boudreaux's Butt Paste®, Little Remedies® Nasal Mist and Little Remedies® Gas Drops. Including even little items like these will allow the new parents to stay home and stay safe once the baby is born.
Plan your Party Games
A great virtual baby shower needs fun games to keep guests engaged! Consider sending out a party package to each attendee prior to the event with the game essentials they will need to participate.
Baby shower bingo is easy and fun to play, and bingo cards can be emailed and printed by the guests. Another idea is to play a price guessing game by holding up different baby items for guests to guess the price. The closest wins!
We know a virtual baby shower simply isn't what anyone expected for this special time. However, what's most important is still possible - to show your love and support for the parents to be during the most exciting time of their lives while following safe social distancing practices. As they welcome their new baby, they'll have the outpouring of love and care shown at their virtual baby shower to carry them through their first days as a new family.